With PicPack, you can collect all the photos and videos your guests are taking at your bachellorette party, rehearsal dinner, ceremony or reception. PicPack is designed to be super easy to upload photos for wedding guests. Photos and videos are immediately uploaded from smartphones. You won't need to hope that everyone is connected on Facebook, using a Instagram hashtag, or having to download a custom app, or bugging your guests to send them after you return from your honeymoon.
A great blog to read about all things weddings is I'm Mother Of the Bride. It is loved by brides and their mothers! Here is a blog article about ways to collect photos at your wedding. How to collect up all the photos taken at a wedding.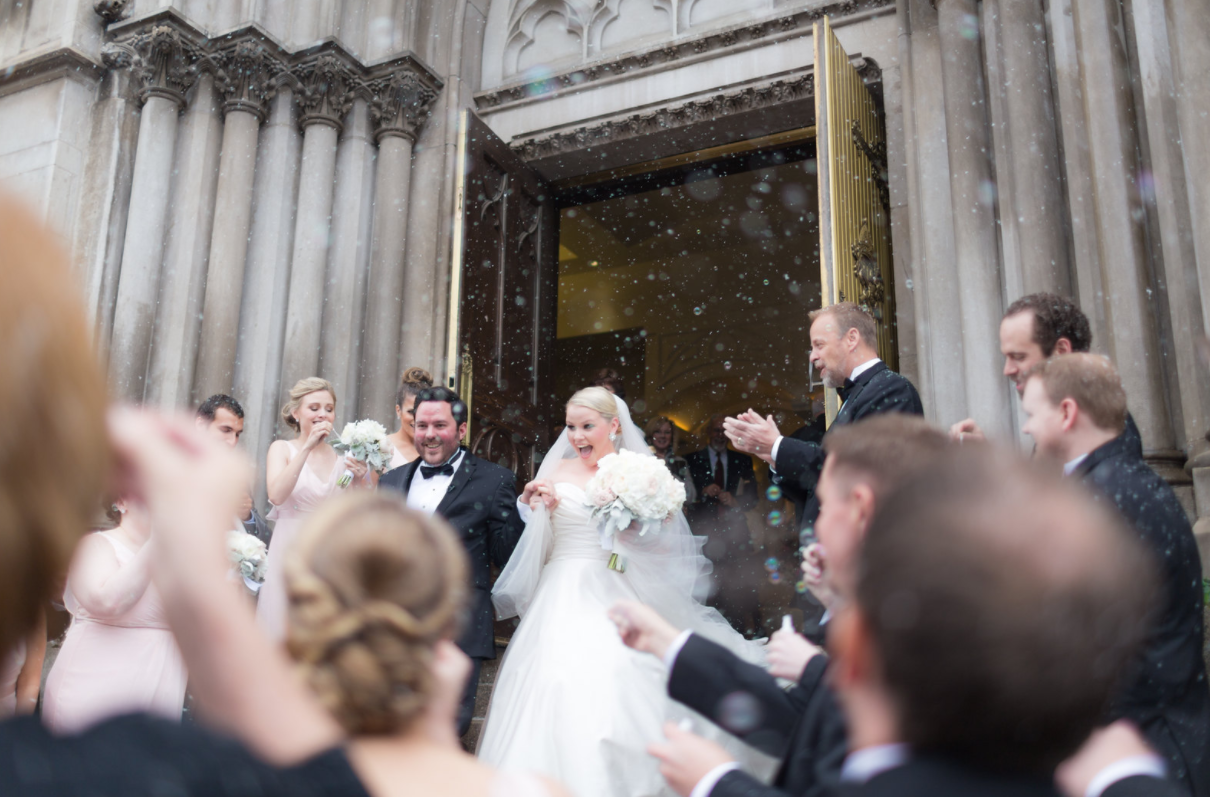 With PicPack you can share a personalized URL prior to your events so your guests can easily share their photos and videos . Your guests will not be required to use an app. They can use their iPhone or Android device to take photos or videos, and PicPack instantly shares them to your personalized URL as they are uploaded. When the wedding ends, you can decide if you want to turn of uploading and just keep your PicPack as a photo gallery.
In a perfect world you should be able to collect the photos and videos captured throughout your day, and you should be able to see those photos and videos immediately.
It may be surprising, but there isn't a easy way for wedding guests to collect and share their photos and videos from your ceremony or reception. Not all of your wedding guests are friends on Facebook or TikTok. Not everyone has downloaded The Guest. You may not want to pay a subscription for DropEvent. PicPack is the best solution for a once in a lifetime event like your wedding and makes it super easy to let your wedding guests share their photos and videos.
Share your wedding photos and videos live
PicPack is focused on collection photos and videos from wedding guests. As long as your wedding guests have mobile phones, they can share all of their amazing wedding photos. Videos and photos will display on your PicPack wedding website as soon as the photos and videos are uploaded. If you have a screen available you can project them on the big screen right next to the dance floor at your wedding.
How do you collect photos and videos from wedding guests?
We have developed PicPack to be the easiest way for wedding guests to upload and share photos and videos. The only one who needs to signup for PicPack is the organizer. We know everyone, including the technically challenged at your wedding wants to get in on the photo and video action. We have designed PicPack to be used by people with any type or version of smartphone. No apps downloads or signups required for your wedding guests.
Setup your Wedding Picpack:
In just a few steps, you can sign up with your email address or Google account. That's all it takes. No filling out a form about your self, your wedding, your location, or the number of guests attending. Let's leave those details for someone else.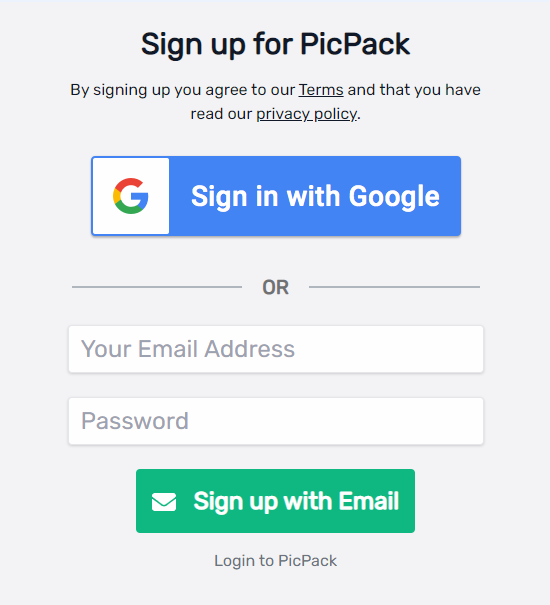 Configure your wedding PicPack
Create a personalized PicPack for your special day. PicPack will turn your unique name into a personalized URL that you can share with your guests via email, text, social media, save the dates, and formal invitations. If Erin and Caleb are getting hitched and want their guests to share photos and videos, their customized link URL might be https://picpack.app/caleb-plus-erin
You can match your PicPack to your taste by changing the color, font, and background design. Click these icons to come up with something that matches the style of your wedding day:

Make your PicPack Private
You can determine if you want to provide a password that guests will need to enter before collecting and uploading photos and videos. This is a completely optional layer of security that makes wedding organizers feel more comfortable collecting photos and videos from wedding guests. Once you have decided on privacy, you can save your PicPack.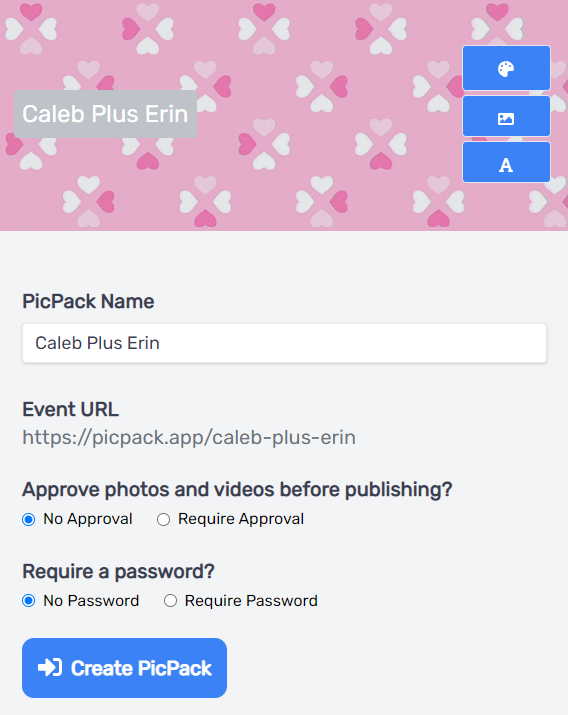 Start collecting photos and videos from your wedding guests
After youhave created your PicPack, you can post your PicPack wedding URL via email, text, social media, save the date, a wedding invitation, or even a poster at all your events. Each wedding PicPack is assigned a six digit secret code ( e.g. 'MTVUXP'' ). You can direct your wedding guests to https://picpack.app and they can simply enter the six digit code. This is perfect for posting at the reception where people will really start sharing their wedding photos and videos.
Once friends and families have navigated to your wedding PicPack, they can very easily upload photos and videos by clicking the 'Add Photo/Video Button' right from their mobile phone. No app or download is required. They will be notified when their upload is complete. After the images and videos are processed, the wedding PicPack will automatically be updated with the photos and videos.
Sharing and Downloading Wedding Photos and Videos from Guests
Once the celbration has wound down, you can easily download all the photos and videos captured by your guests. Wedding photos and videos will be downloaded into a ZIP file containing all the photos and videos with their original high resolutions.
How can I check out PicPack?
You can create a online wedding PicPack with 100 photos and videos absolutely free. No credit card required. No downloads required. If you want more photos and controls, there are many options available. We think after trying PicPack, you'll tell others that PicPack is the best solution for collecting and sharing photos and videos at your wedding and events surrounding it. Start creating your special wedding day right now by clicking the button below to get started: