Sites like Instagram, Cluster, and Facebook might be a popular place for sharing photos with the world, but there is a far better option for sharing both photos and videos with groups of people at semi public events like weddings, conferences, tournaments, or trade shows. While social networks offer a convenient way to post photos online, they don't provide much privacy and require everyone to have an account.
If you prefer to make it easy for everyone in your group to share photos, we think PicPack is your best choice. PicPack is the simplest way to collect and share photos and videos with a group while keeping things private but also keeping it easy to use for the entire group.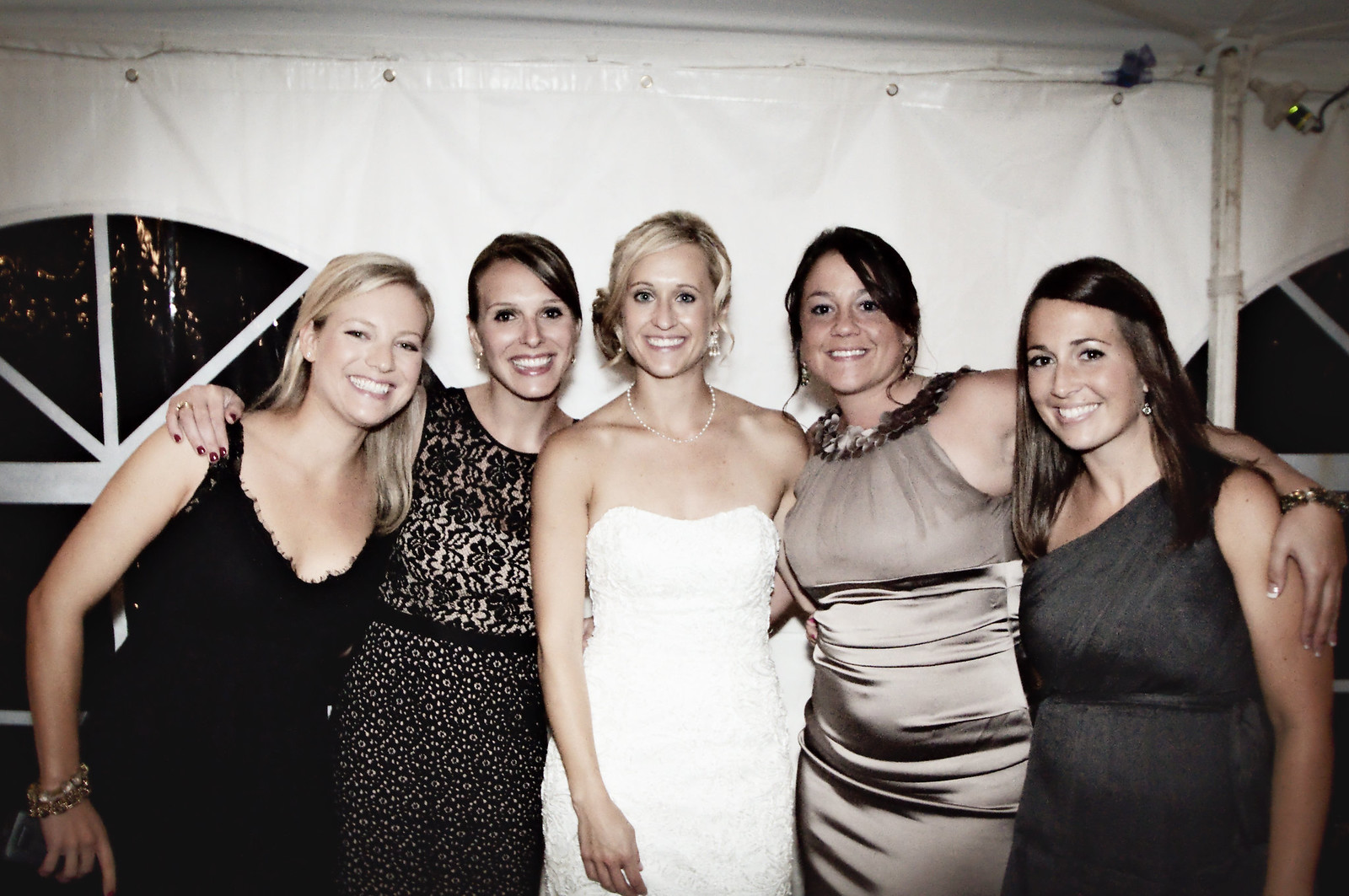 The biggest thing to keep in mind when choosing software to collect and display photos is to think not about selecting the one with the absolute best features, but about picking the one that will be the easiest for your group to use. When it comes to collecting and displaying photos, the problem isn't the little features, but whether or not everyone can upload photos easily in as few clicks as possible.
Ideally any member in your group should be able to find your event and share a photo with the rest of the group in 3 clicks. We have designed PicPack around that goal. No apps or downloads are required. No signup is required. Anyone with a smart phone can access your personalized URL and immediately upload a photo. If you want privacy, you can ask them to enter a password before seeing or uploading photos or videos.
Share your group moments live
PicPack is here to help and is the easiest way to collect and view photos and videos for you and your group. Photos and videos will automatically appear on your PicPack group page as soon as they are uploaded. If you have a projector available you can share them on the big screen at your event or gathering
How does PicPack work for groups?
We have designed PicPack to be the best way for a group to share and view photos and videos. The only one who needs to create an account is you. Even the most technically challenged member of your group can share photos. As mentioned above, no apps, downloads or signups required for participants. A internet connected smart phone is all that is needed.
Create your Picpack:
You can create an account with your Google account or email address. That is all. No filling out a form about your group or details about your wedding, conference, or meeting.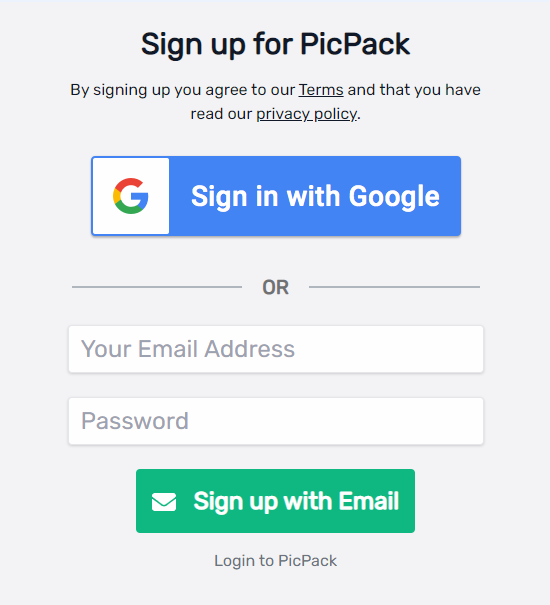 Create your group PicPack
Create a unique name for your PicPack. PicPack will automatically turn the name of your event or group into a personalized URL that you can share via email, text, social media, invitations, and printed flyers throughout at your venue, real or virtual. If you are collecting photos at a bar mitzvah, your personalized URL might be https://picpack.app/brian-lachs-bar-mitzvah
You can customize the look and feel of your PicPack by changing the font, color, and background image to suit the theme of your group or event. Click these icons to come up with something that goes with your group:

Add Group Privacy
You can decide whether or not you want to provide a password that your group will provide before uploading or viewing photos and videos. This is an optional layer of security may help people feel more comfortable sharing their photos to a large group of people. Once you have entered a password, you can click 'Create Event'.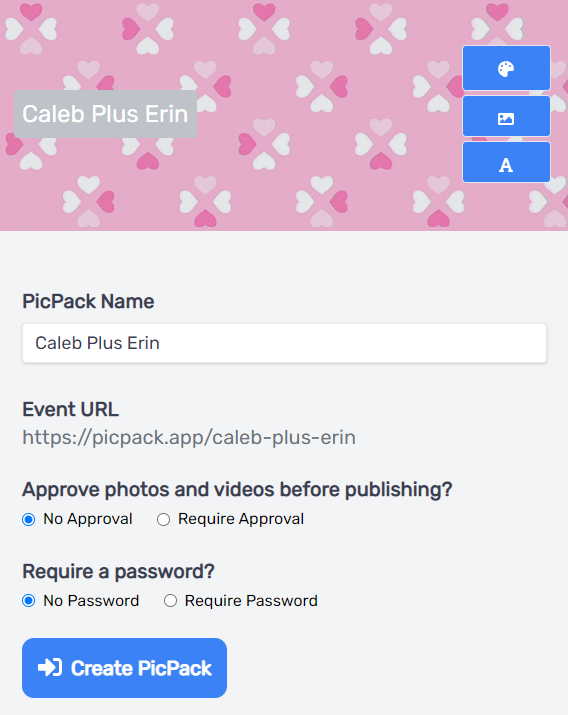 Start the event!
After your group PicPack is created, you can post your URL ( e.g. https://picpack.app/brian-lachs-bar-mitzvah ) via email, text, and social media. Alternatively, each PicPack is assigned a six digit secret code ( e.g. 'ELIQIT' ). You can point your group to https://picpack.app and they can simply enter the six digit code. This is perfect for posting at the event where people can immediately start posting photos and videos.
Once your group has navigated to your PicPack via URL or six digit code, they can very easily upload photos and videos by clicking the 'Add Photo/Video Button' right from their IPhone or Android device. As mentioned above, no app or download is required. Your group member will be notified when their upload is complete. It usually only takes a few seconds for photos. After the images and videos are processed, the PicPack will automatically be updated with the photos and videos.
After the Event
Once your event is over, you can quickly download all the videos and photos captured by your group. Photos and videos will be downloaded into a ZIP file containing all files with their original resolutions.
How can I try PicPack?
You can create a PicPack with 100 photos and videos absolutely free. No credit card required. If you want more photos and controls, there are many affordable options available. After trying PicPack, we think you'll agree it's the easiest solution for collecting and viewing photos and videos at group events. Start your group event off right by clicking the button below to get started: