Ready to collect photos at a party? Make your life easy:
Otherwise, collecting photos from a group of people at a party is not as simple as it would seem.
It's super easy to share a party photo with millions of people on Facebook. But collecting and viewing photos or videos for a smaller group of people, like those at a private party, particularly when everyone is not friends on Facebook is surprisingly hard.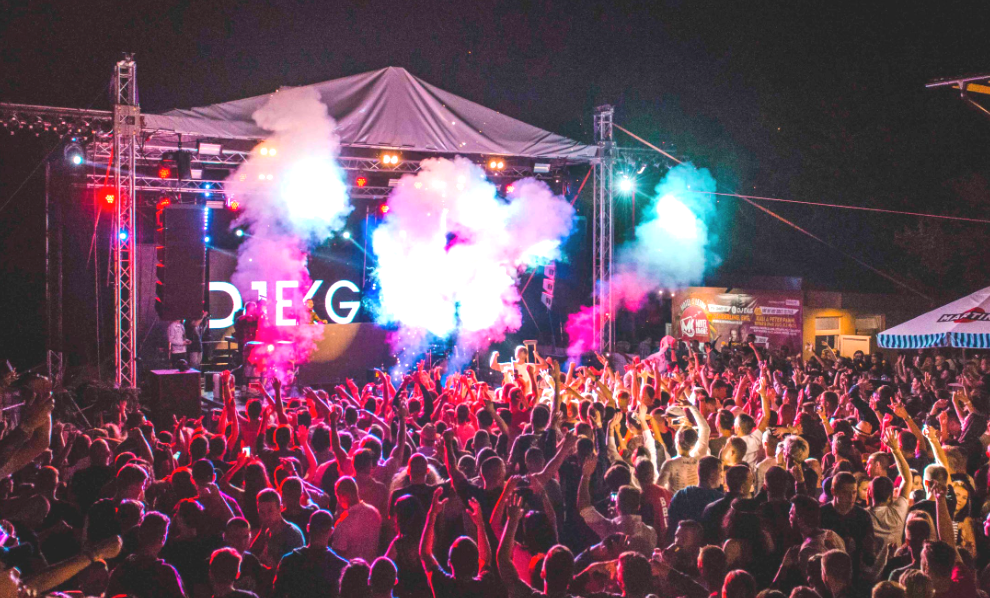 Apps like Cluster make it easy to share party photos for a group of friends who are all connected socially. But for a group of people at a small concert venue, or the people at a party venue or club, there isn't really a easy solution. Sharing party photos is even harder at events where the attendees are even more loosely connected like at a very large corporate party.
What options are available?
Plenty of apps and sites try to help share party photos. Most of these apps make partiers download an iPhone and Android app. Many simply have a bad experience for sharing party photos. Most make the process far more difficult than it needs to be when you want to share and not leave the action.
Some apps do a good job of this. These include: 23Snaps, Amazon Photos, Cluster, Yogile, DropEvent, Greetix, Liveality, and Sharypic.
With that said, we believe PicPack is the easiest solution for sharing party photos. Here is why:
Two click signup for the party organizer
The creator of a Party PicPack is the only one that ever needs to signup, and doing so is super fast. You can signup for PicPack in two clicks. Use your Google account or email address. That's it. We won't ask you for anything else, promise.
Easy Party Setup
You can create a PicPack to share party photos in a few simple steps:
1
Create a personalized party link
For each PicPack you create, you give it a personalized name that corresponds to your own unique PicPack link. If there is a party called 'Electric Carpet Ride', you may name your PicPack 'Electric Carpet Ride'. This will result in this personalized link: https://picpack.app/electric-carpet-ride. This is memorable and very easy to share in a variety of places.
2
Add a optional description
Each PicPack can include a optional description. Maybe you want to provide the details of the party, or the location of the party venue. This is a perfect way to give the party group additional information, prior to or during the party.
3
Style your PicPack
You can tweak the look and feel of your party PicPack by changing the font, color, and background image. This lets you add a personal touch to match the theme of your party.


4
Require approval before publishing
You may want to approve all photos and videos before they are published. As you know, parties can get interesting and you may want to filter out anything too risqué. When new photos or videos are uploaded, you can approve them in the Not Approved section of your review page. You can approve or delete the party photos and videos with the single click.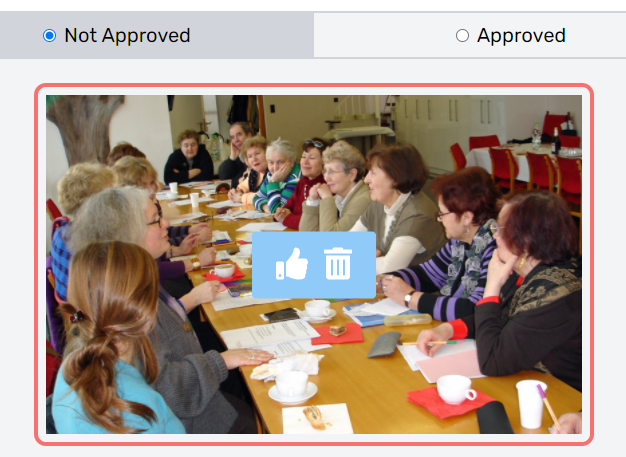 5
Require a password
You may require a password before your anyone can upload or view any photos or videos. This is a great way to keep things private at a very exclusive party. Without this password, people outside the party will never see the photos and videos collected at the party.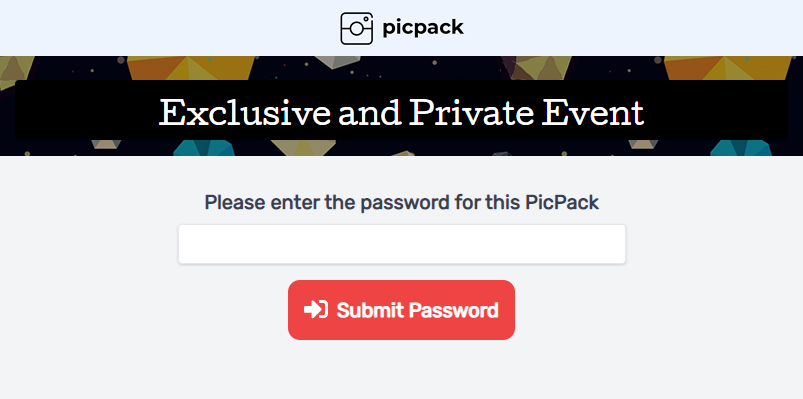 6
Save your party PicPack
Once you have configured your PicPack you are ready to save it. Upon saving your PicPack, a 5 digit secret code ( e.g. 'MTVUX' ) will be automatically created. You can use this code to share on party flyers. Also put that code on screens at the party directing people to https://picpack.app where they can enter the code to quickly upload and view photos and videos. This is a great way to solicit people to provide photos live at your event.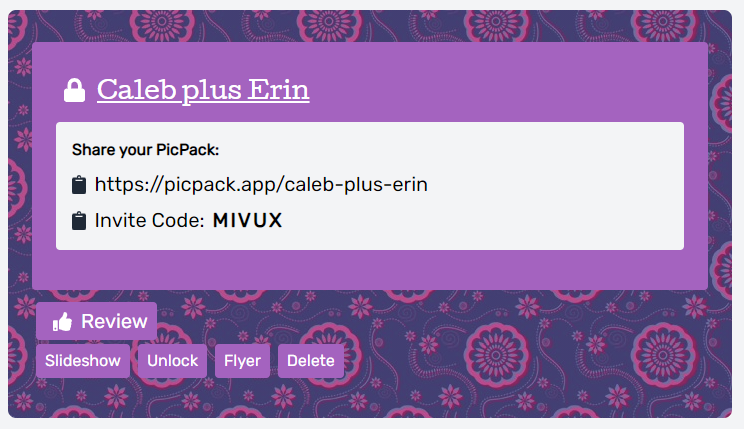 Manage Your party photos and videos
You can manage all of your PicPacks in one central place. Here are a few things you may want to do:
Invite partiers to your PicPack:
You can copy either the personalized link to your PicPack or the 5 digit code from your PicPack panel. Share this link or secret code via email, text, social media or any other place where you communicate where people can share party photos.
Review your party photos:
If you required approval for all photos and videos, click Review from your PicPack panel. You can very easily approve or demote photos and videos to be included on your party page. Also quickly delete any photos you don't want to keep.
View your slideshow:
If you want to display a live slideshow at the party, you can launch it from your PicPack dashboard. As people share photos and videos at the party, they will automatically appear in the slideshow. This is a great way to set up a virtual photo booth or add as a backdrop at the party on a projected screen.
Lock your PicPack:
When you are done letting people share party photos or videos, click the Lock button to disable uploads.
Print a party flyer:
A great way to share your PicPack so your party can join is by printing it out on a flyer. Click the flyer button and PicPack will create a printer friendly flyer for 8.5 x 11 paper that you can print out and post at your party venue. A QR Code is included providing an even easier way for your group to join and start uploading or viewing photos.
Delete your party PicPack:
Delete your party photos and videos once you are done collecting and viewing photos and videos. This is great for subscription customers who throws lots of parties and wants to the limit of their PicPack subscription.
Download all the party photos and videos:
Quickly download all the photos and videos from your party by clicking the download button on the manage page. A Zip file will be created containing all the original resolution photos and videos.
Start sharing party photos and videos
Each attendee at the party can easily share photos and videos to your PicPack. By navigating to your personalized party URL, entering the 6 digit secret code at https://picpack.app, or scanning a QR code, partiers will be taken to your party page on their web browser where they can upload photos ( JPEG, PNG, or animated GIFs ) or videos ( MP4 or quicktime ).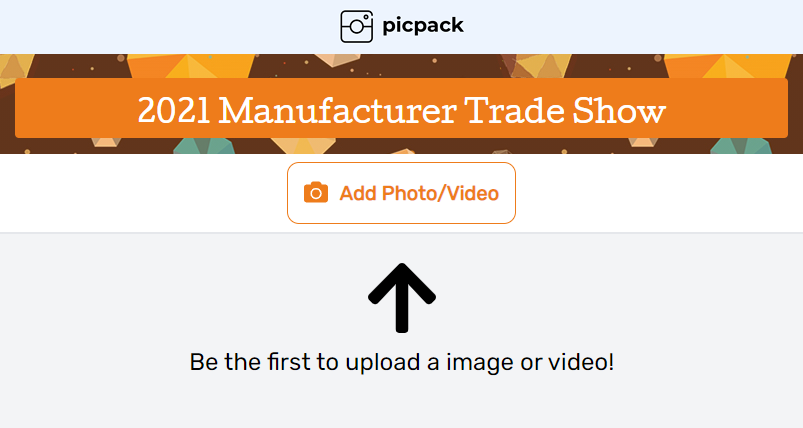 View the party photos and videos
Your party can view the photos and videos they shared at anytime via your unique party link, 6 digit secret code, or QR code. Scrolling through photos and videos is just like looking through a Facebook or Instagram feed. Each photo and video can be downloaded in its original resolution by anyone with the link.
How can I start sharing party photos with PicPack?
You can create a personalized party PicPack with 100 photos and videos absolutely free. No credit card required. If you want more controls or photos, there are many affordable options available. We think after trying it, you'll agree that PicPack is the easiest solution to collect photos and videos for groups. It's perfect for weddings, memorials, and family reunions. Sart collecting party photos and videos now by clicking the button below to get started: